---
Join our Online course: 
An Introduction to the Philosophies, Principles and Practice of the CAOS Model of Conflict Coaching - Click this link to find out more
---
Purchase this book written by Alan Sharland, Director of CAOS Conflict Management:
How to Resolve Bullying in the Workplace: Stepping out of the Circle of Blame to Create an Effective Outcome for All.
---
Train to be a mediator
with CAOS Conflict Management and join the CAOS Learning Community of Mediators and Conflict Coaches and benefit from the follow-on support for your practice that training with CAOS will bring.
---
---
This is what people say about CAOS training...
"In my 20 years experience as an academic this is the best 'in-service' training I have experienced. The quality of the training team's preparation and the skill with which they conducted the course was impressive."
Dr Meretta Elliott -Senior Lecturer-School of Arts-Brunel University - speaking about a 6-day Mediator training course run by Alan Sharland and colleagues.
---
"This was not an easy course; the challenges involved in working outside one's usual mode of operation were considerable, but the upbeat attitude of the trainers and the calm and supportive atmosphere they created meant that I was free to work outside my comfort zone in developing an approach to assisting others deal with their own situations."
Dr Mary Richards - Subject Leader for Drama - Brunel University - also speaking about the Mediator training course.
---
"This was a very successful workshop, feedback described the day as "fun", "interesting" and "informative" with a "superb" trainer who had a "very thoughtful approach". 100% of our attendees said they had enjoyed the course and they would recommend it to colleagues."
Tania Murrell - Business Development Manager, Hillingdon Association of Voluntary Services - speaking about the workshop 'Dealing with Difficult Behaviour' run by Alan Sharland.
---
Train to be a Mediator with CAOS Conflict Management
---
"Alan provided excellent training for mediators at Common Ground Mediation which was challenging but also thoroughly enjoyable.
He led us through various interactive exercises to help us reflect on the mediator's role and impartiality. I would highly recommend Alan as a trainer for mediators."
Morag Steven - Director of Common Ground Mediation, Edinburgh, Scotland.

---
Here's a Handbook to help you practise more effective communication and to review and improve how you are responding to unresolved conflict: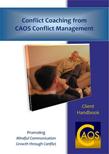 The CAOS Conflict Coaching Clients Handbook
Buy Now for just £4! or click on the image to find out more.
---