High-hedges Mediation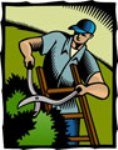 High-hedges mediation can help to save thousands of pounds in legal fees and long term stress over disputes over tall trees keeping out light from a garden, overhanging branches, fruit and leaves dropping into a neighbouring garden, root damage to walls and lawns and other concerns that can arise from the presence and growth of hedges or trees.
The High Hedges legislation strongly encourages the use of mediation to try to resolve concerns over high hedges.
Before approaching any local authority to make a complaint about a neighbour's hedge, a resident will be expected to have tried speaking and / or writing to their neighbour about their concerns.
If this does not prove successful or if they would prefer to, residents are then expected to try mediation to resolve any concerns before they approach their council.
The leaflet Over the Garden Hedge is a useful booklet describing ways in which a neighbour can be approached in as effective a way as possible without turning the issue into a dispute. It also describes how mediation can be used in such situations.
Many local authority websites will give a link to a local community mediation service that provides this free of charge and will also give details of the local authority's charges for investigating a complaint if mediation does not help to resolve the situation.
Mediation is strongly encouraged in such situations because even if a resident pays for the Council to investigate their complaint, there is no guarantee that the Council will find in their favour and demand action, and so it is in residents' financial interest to try all forms of amicable resolution before making a complaint - as well as it being more beneficial for their long term relationship with their neighbour.
If your local area does not have a community mediation service, you may have to pay for the service. CAOS Conflict Management can provide mediation for this kind of dispute for a fee, but we will let you know if we know of a service in your area that provides mediation for free for such disputes. (This applies to London only)
Contact us on 020 3371 7507 if you have a difficulty with your neighbour over an overgrowing branch, leylandii, a hedge or tree that is causing concern, and you would like to refer your situation for high-hedges mediation but do not have a local mediation service available to provide this for you.



Click here to go from high-hedges mediation page to CAOS Conflict Management home page