Contact CAOS Conflict Management on 020 3371 7507
---
Become a Mediator with CAOS Conflict Management on our London Training Course
See below for details of when you can become a mediator, trained in the CAOS model of Mediation.
Next CAOS Mediation Skills Training Course (click here for more information):
Next course:
Mon-Weds 6th-8th June
and 
Mon-Weds 13th - 15th June 2022
Training is held at Key House, 106, High Street, Yiewsley, Middlesex UB7 7BQ (within London Oyster zones in London Borough of Hillingdon).
All days are from 10.00am - 5.00pm and tea/coffee is available from 9.30am
Call us on 020 3371 7507 to discuss the course or use the form below to register your interest.
Here is a video which gives detailed information about our training course:
What past experience or qualifications are needed to become a Mediator?
It can often seem that to become a mediator you need various different academic qualifications such as a background in law, social work or a psychology degree etc. 
None of these are requirements to train to be a mediator.
The trainers that provide our mediation course have all had extensive experience in mediation in a range of different fields and extensive experience of training people to become Mediators and are committed to taking the mystery and complexity out of the practice.
Some of our longest standing mediator-trainers do not have a degree - it is not a requirement to become a Mediator. 
Once trainees have become a mediator we offer ongoing practice support as well as business development support where this is wanted. 
Click here for examples of people who have gone on to develop as individual freelance mediators.
We have also trained people from the following organisations and others where mediation is an ongoing provision either in-house for staff and service users or as a service for members of the public with particular needs: 
The Bridge - Charnwood, Leicestershire

Wyre Forest Nightstop and Mediation

Brunel University

Plymouth University

Bedford Borough Council

SOHA Housing Association

.....and many others
---
Mediation Training Course Accreditation? Be aware of some 'cloudiness' on this issue. 
Please watch this video (5mins 30s) to see our view on accreditation in relation to our mediation training course...
....If, after watching the video above you'd like to read more about the topic of accreditation, or 'qualification' in the mediation world, see also these articles:
Click Here to get the 'low down' on this ambiguous issue in the mediation world. 

Alternatively, read this post on 'Mediation Accreditation - Red Herring, Rip Off or Real Sign of Quality?
And finally this very succinct article by Tammy Lenski, a prominent practitioner of mediation as well as author and trainer in the USA where the same 'ambiguities' arise as in the United Kingdom: 
You Say You're A Certified Mediator.  Says Who?
What is needed to become an effective mediator is a continuous commitment to self-reflection, development of self-awareness, a recognition of others' capacities to create their own answers to their difficulties and a willingness to acknowledge that we all, (including mediators!), struggle with unresolved conflict and communication breakdown and that they can be opportunities for learning, change and growth.


The CAOS approach to mediation training supports a particular approach to unresolved conflict.
Many approaches to unresolved conflict seek to suppress it.
At CAOS we are interested in supporting the creative and constructive expression of conflict.
Many approaches to unresolved conflict seek to avoid it.
At CAOS we are interested in supporting the creative and constructive engagement with conflict.
When you become a Mediator via the CAOS approach to mediation training, you will learn and practise the skills that provide that support.
And you will also be challenged on a personal level:
To look at how you perceive and respond to conflict.

To look at how you perceive and respond to others involved in unresolved conflict.

To look at the personal challenges involved in really walking the talk of what mediation is about
It is important to develop that 'mindfulness' about our own responses to conflict and how we tend to communicate in the midst of a conflict so that we are able to maintain a disciplined approach to our role as a Mediator. 
CAOS Conflict Management has helped many people train to be a mediator, whether as individuals intending to develop their own private practice or within organisations such as Brunel University in West London (where we have also trained staff in Conflict Coaching skills) and The Bridge Housing Services in Charnwood, Leicestershire. 
Both of these organisations have regularly received our training and support in order to enable them to provide an effective mediation service as part of their operational activity. 
---
---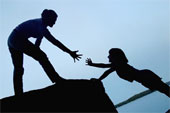 But to get started as a Mediator you need more than just to attend a training course.
Click here to find out about some of the potential pitfalls you may encounter in starting a career as a Mediator and click here to find out how CAOS Conflict Management can provide more than just a training course to help you with this.



Return from Train to be a Mediator to Home Page