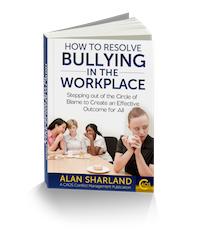 Purchase this ebook written by Alan Sharland, Director of CAOS Conflict Management:
How to Resolve Bullying in the Workplace: Stepping out of the Circle of Blame to Create an Effective Outcome for All.
---
Do you like this page?
Do you think others would like it?
Then please Google +1 it below:
---
Some Testimonials about our training and links to other pages about our
Mediation Skills Training Course…..

"Alan provided excellent training for mediators at Common Ground Mediation which was challenging but also thoroughly enjoyable.
He led us through various interactive exercises to help us reflect on the mediator's role and impartiality. I would highly recommend Alan as a trainer for mediators."
Morag Steven Director of Common Ground Mediation, Edinburgh, Scotland.
---
"In my 20 years experience as an academic this is the best 'in-service' training I have experienced."
Dr Meretta Elliott -Senior Lecturer-School of Arts-Brunel University

---
How much for the CAOS Mediation Skills Training Course?
£3300?

No! Down a bit....
---
This is what Brian Parry, Group Strategy Director at the Government Central Office of Information, said about our February 2012 course:
"Very challenging but also excellent opportunity to acquire new skills. The skills are useful not just as a mediator but also in other workplace situations and throughout your life. Training is well thought through/structured over 6 days so you have a chance to learn through trial and error.
Really enjoyed the course and thank you to Alan and Susie for their enthusiasm and encouragement!"
And this is what Chantelle Bramley said, who was training for her role as Mediator at The Bridge Housing Services in Charnwood, Leicestershire:
"I really enjoyed the course. It met my expectations and more. I felt that the environment created by Alan and Susie was very relaxed and trusting. I always felt comfortable, and always felt I was able to ask questions no matter how small/silly they seemed. The small group also meant that i got to know people really well, and this made the role plays/activities comfortable and enjoyable. Thank you Alan and Susie!"
Update from Chantelle, 6 weeks after the course:
"Just a quick update, everythings going really well. I've got 16 open cases at the minute, and on average have two appointments a day!"
---
How much for the CAOS Mediation Skills Training Course?
£2000?

No! Down a bit more....
---
Would you like to Train to become a Mediator? Click on the link to find out a bit more about our course.

"I feel like this course is infiltrating into all aspects of my life right now! I'm currently really busy managing a team of students and I think I'm a better listener and a more empowering leader because of the course."
Rebecca Howard who attended our February 2012 Mediation Training Course
---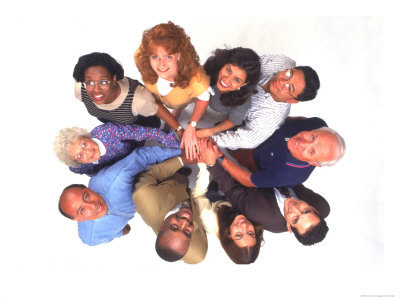 When and Where is our next Mediation Skills Training Course?...and other stuff...
---
How much for the CAOS Mediation Skills Training Course?
Our course costs £1400 and we often give early booking discounts ....and has been commissioned by local authorities and universities and community groups to train staff for direct practical application.
And you can pay by instalments.
How much were you thinking you would have to pay?
We know that many courses cost 2,3,4 times that figure.
Do you know why?
---
"Peace is not the absence of conflict, but the presence of creative alternatives for responding to conflict." - Dorothy Thompson
---
What is Accreditation and Why Do You Want It?

An explanation of the qualification offered by CAOS and comments about some misconceptions relating to the status of 'accredited' mediator by Alan Sharland, Director of CAOS Conflict Management.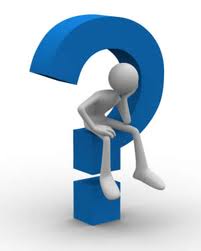 ---
"It only takes one person to end a war, and you're the one. What a perfect set up!" - Byron Katie
---
What is the CAOS Approach to Mediation that our course will train you in?
---